The P45 digital piano is the huge leap forward that Yamaha portable pianos needed.
Aside from the original Yamaha p35, this new Keyboard is set to have the biggest impact on the digital piano world.
OUR VERDICT
Pros
Cons

Price
polyphony
Weight
Key Action

Key Material
Speakers
Functions
Control panel
Voices
Yamaha's P45 Digital Piano is one of the most popular and highly used digital pianos for beginners.
This instrument is as simple as it can get, it offers a rich and faithful piano sound, along with :
---
2 electric pianos
2 organs
Strings
2 harpsichords
1 vibraphone
---
Very similar to its predecessor, the Yamaha  p-35, this new model presents a higher polyphony ratio, a USB to port, and a  better hammer action.
Perhaps the number one reason why people love this product as to do with the fact that it's a very cheap 88 key keyboard with weighted keys with perfect dimensions.
This Pianokeysolution review will specifically treat on:
Polyphony
Graded Hammer Action 
Comparisons
Features
Specification Table :
| | |
| --- | --- |
| Keys | 88 |
| Voices | 10 |
| Polyphony | 64 |
| Colour | Black |
| Graded Hammer Action | ✓ |
| USB | ✓ |
| Speakers  | ✓ |
| Transpose | ✓ |
| Metronome | ✓ |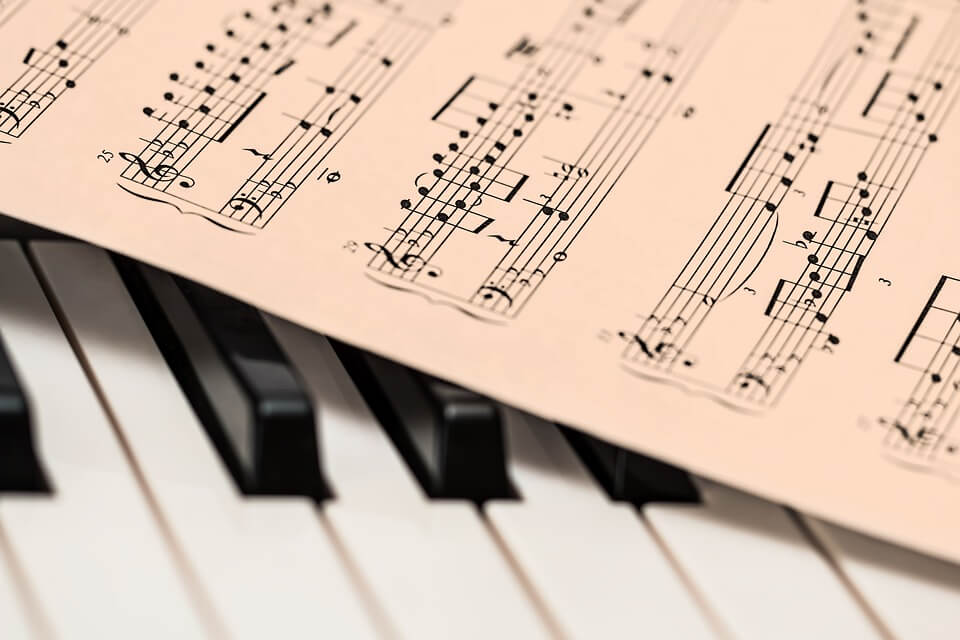 | | |
| --- | --- |
| Recorder | X |
| App integration | X |
| Damper Resonance | X |
| Sound Boost | X |
| Screen | X |
| Songs | 10 |
| Split Mode | ✓ |
| Aux Jack | X |
| Dual Voicing  | ✓ |
Personal Experience With The Yamaha P45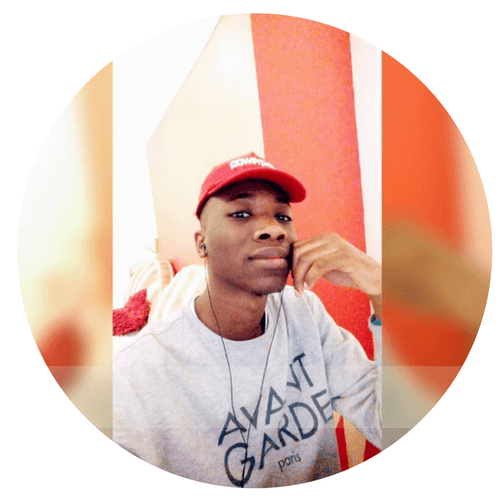 This Product was actually my first-ever experience with an 88 key digital piano, prior to this I used graded soft keyboards, I just can't compare the experience, all I can say is the two are day and night, never in my life had I ever experienced the magic behind polyphony and weighted keys. It's been 2 years since my initial purchase and the P-45 is still in good shape, I have not had any hardware or internal software issue except for the fact that after a long period of usage the keys definitely feel looser.
Fortune
---
Polyphony
is known
as the total numbers of notes a piano is able to play in one go while holding down the sustain pedal.
The higher the polyphony number, the more expressive a player can get with the piano.
---
---
The mechanism used on this digital piano is the GHS, which closely imitates the hammer of a real pianoforte, the notes at the top left are indeed heavy like a real piano, by gliding to the higher notes You will feel the weight getting lighter and lighter, just like a real pianoforte.
The image below is an accurate representation of what a graded hammer action looks like, the weight is proportionally decreased through the keys, giving it this heavy light feeling while playing.
Again this is nothing new for advanced pianist, in fact, it is essential for new players to get used to this. Overcoming this sense of struggle will take time and effort as conventional keyboards keys present no resistance at all.This is one of the strongest points of the Yamaha p-45 digital, the mechanism its self is very good, it's good enough to strengthen the fingers and develop the required technique.
---
Major cons: 
The weight present on the keys is not ideal for advanced players and the overall touch is average at best.
Major cons:
keys, these are not made of wood, neither are they made of ivory but rather plastic, this simple detail does take away from the overall quality.
---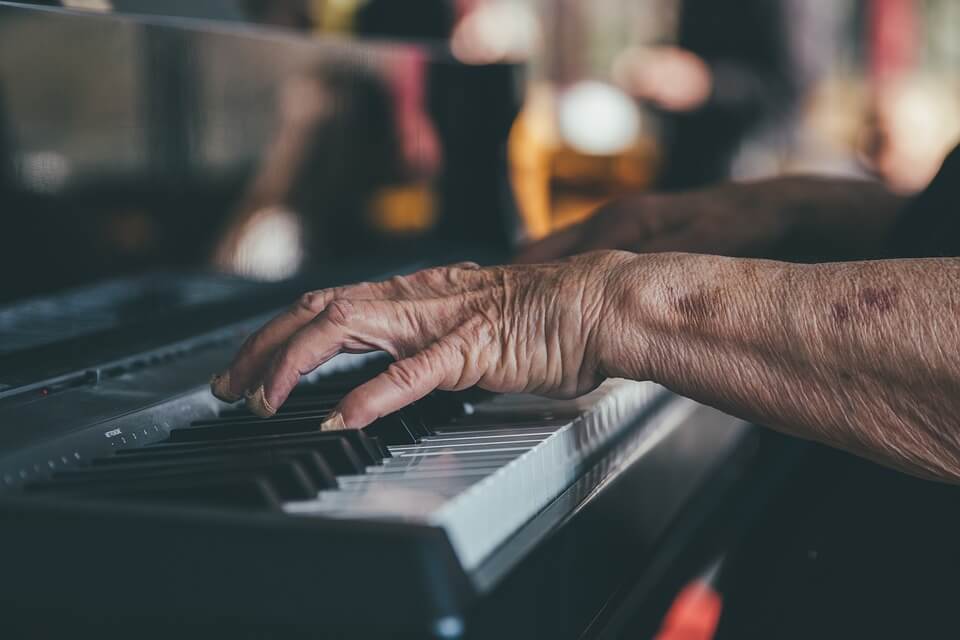 | | |
| --- | --- |
| Item Weight | 36.4 pounds |
| Product Dimensions | 58.2 x 16.1 x 11.8 in |
| Item model number | P-45 |
| Colour | BLACK |
| Number of Keyboard Keys | 88 |
| Country Produced In | china |
| Speaker Count | 2 |
| Output Wattage | 12 watts |
| Piano Bundles | yes |
This digital piano is shipped with the following items:
A music stand for all of your sheet music;

The user manual;

A power adaptor [

PA-150B AC adapter]

A Sustain Pedal  [

FC-5 footswitch-style sustain pedal

]
This Digital comes with a set of equipment, most important ones is the power adaptor[PA-150B AC adapter], which is not expensive in itself, however, users will have to be careful as the cable is very fragile, which makes it subject to sudden breakage.
The manual is 20 pages long, which clearly illustrates functions, specifications, and warnings. I am personally not a manual guy myself, however, the control panel on this digital is so weird that you will be forced to familiars yourself with the basic functionalities through the manual.
A sustain pedal, the FC-5 footswitch-style sustain pedal is also included in the product purchase, users can simply use the simple and futuristic pedal offered, or simply get a traditional looking one, extra care needs to be taken with this as mine does not work anymore.
The last equipment is the Music stand, this is a removable stand that goes right at the top of this digital piano, made of plastic, is a very elegant looking piece.
Yamaha P45 vs Yamaha P115
Yamaha p45 vs Yamaha p115? a comparison? is this not a review article? Oh Yes, it is but is important to address this before going any further with the article, as this is the most asked question by potential buyers.
The two are aesthetically the same, they present almost the same identical layout but offer different performance. This all You need to know about this comparison: The Yamaha p-115 is an upgrade compared to the p-45, in every aspect, nevertheless, they are both great.
The p-115 offer a richer piano experience, thanks to the recording integrations, players will be able to play and record themselves. We also have an in-depth/interactive review of this  Yamaha P-115 digital piano.
This Yamaha P model allows users to experiment and spice up their playing by layering two different sounds at the same time. Having a total of  10 default sounds, users can mix this two by two in order to get new personalized voices.The lack of voices is certainly an issue when it comes to the Yamaha p series, but thanks to this feature the p45 is able to create a little more variety.
*A typical example will be that of the strings and piano layering, a classic combination.
---
---
The sound is produced by the AWM stereo sample, which features different recording depending on how the keys are triggered (forte, piano).
---
---
---
The P-45 is equipped with two 12 cm cones speaker. I personally find the volume to be ok for room performances, the speakers are able to radiate a good sound.  Unfortunately when my brother decides to join me on the drums, and my other brother decide to kick in with his bass guitar the p-45 speakers are not able to stand out, the sound tends to get overshadowed by other musical instruments.
*This minor problem is not a great deal if you tend to play alone, but if You engage in group playing I recommend plugging the piano to an external speaker for a better experience.
---
---
Oh yes, it has a USB port, all you need is a midi cable, a software and a computer, all that is required is:
Getting an AB midi cable
connect one end to a computer 
connect the other to the P-45
Download the software
Start playing 
There is a lot of misconception and ignorance regarding the USB to host capabilities of a digital piano, it's important to understand that the musical instruments production industry is moving further and further into the online space, there are tons of powerful software this very day in the market called VST.
This port is definitely one of the greatest advancement and assets Yamaha has added to this digital, I recommend looking into this VST software and reading what they are all about, this software enables you to do all sort of things with your digital piano.
This E 6/ 9  chord displayed in the image is an example of what I'm talking about, this particular VST software picks ups the notes and chord played in real time and displays the name.
---
---
Who is This Product Perfect For?
Entry level pianists on a budget.
Performing musicians, this digital instrument is also a good fit for moving musicians (gigs).
Returning pianists.
People on a low budget.
The P45 is relatively cheap when compared to other stage pianos, the price ranges from 300$ to 500$, I personally got mine brand new at the great price of 340$, great deal for me, however, this is a very cheap digital piano!!.
What are the Down Sides of This Product?
The first thing to notice is that the speakers are oriented downwards at the bottom of the piano, this means that in a group playing, there is a possibility of getting your piano sound easily covered by drums and instrument with external speakers.
---
---
The piano comes with only 10 voices, which makes it more of a piano than a keyboard, overall this will provide a better experience than most keyboards in the market, thanks to the hammer action, polyphony, and 88 keys.
---
---
The buttons layout of this piano is so simple and the interface is so minimal, Yamaha opted for a strange approach, Users will have to get used to using the manual to understand how to select or use certain features, which gives it a bit of a learning curve.
---
---
presents very few functions, depending on who you are this might be disturbing or negligible. Yamaha has kept all the Yamaha P pianos has simplistic as possible, the p-45 is really minimal when compared to the DGX 650 or DGX 660.
---
---
Difference Between P45 and P45b
This is a very common doubt that will come up while researching information on the Yamaha p-45, I personally was confused and searched Google with questions like Yamaha p45  vs Yamaha P45b, thinking the P45b was a sort of upgraded compared to the other.
I quickly clear all doubts by calling Yamaha musical customer services, where I was told that there is no difference between the two, the B letter at the end is a color representation.in our case Black, Yamaha P-45 digital piano Black.
*No hardware differences, no functionates difference!!! they are the same product.
---
Customers reviews on the Yamaha P45 Digital piano

Beautiful piano sounds as well as other sounds. The unit does not have much bass so you might want to add speakers for that. Also if you want to use a USB flash drive to record songs make sure you stick to the list of approved flash drives. If you don't it might not format or stop while you're recording..
Amazon customer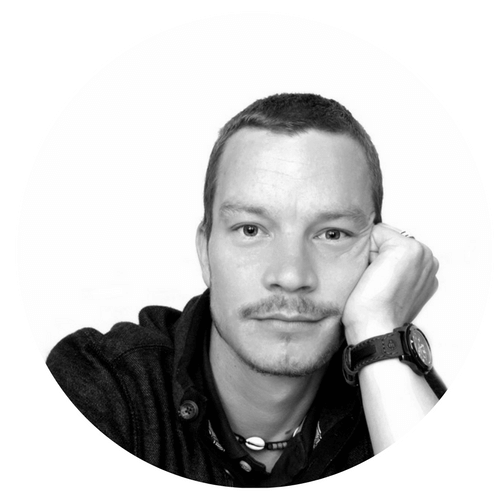 Superb quality at an affordable price.!
Calin
---
Conclusion
This can be considered the best Digital piano for a beginner at the moment, it comes at a great price and is able to perform rich sounds. It also leaves space for a good amount of expression with the 64 polyphony and  Graded Hammer Standard action. The price ranges from 400$ to 300$, making the best digital buy for a tight budget.This is a very well-rounded digital piano thanks to some features Yamaha has integrated on this model like the dual mode, metronome, transpose, and song presets. Once again beginners and experts alike are welcome to invest on this piano, this is one of Yamaha's most selling digital pianos, and hopefully, this piano-key-solution article has given You enough information about the product.