Yamaha is well known for these particular digital pianos, the P115, and P255, the latter is the more expensive of the two pianos, with a design of it's on and a substantially high price.
We have previously talked about the difference between the Yamaha P45 and P115, this time around we are going to examine and break down the  Yamaha P115 vs P255.
This is a no-brainer when played side by side the difference is noticeable, thanks to the combination of the supreme CF piano and a two pair of 15W onboard speakers the Yamaha p255 dominates.
Yamaha P255 voices
---
16.1 x 58.2 x 11.7 in.
52.3 pounds.
---
Yamaha P115 voices
---
 16.1 x 58.2 x 11.8 in.
26 pounds.
---
Both Pianos are marketed as portable pianos, however, we can clearly see the p115 is much lighter and easy to carry around, this is due to the heavier key mechanism offered by the Yamaha p255 and the heavy speakers.
Both digital pianos are fully weighted, the p115 offers the GHS technology and the P255 is using the GH technology.Both are good, especially for beginners, however, the GH is generally considered a mid-tier mechanism while the GHS is a lower tier.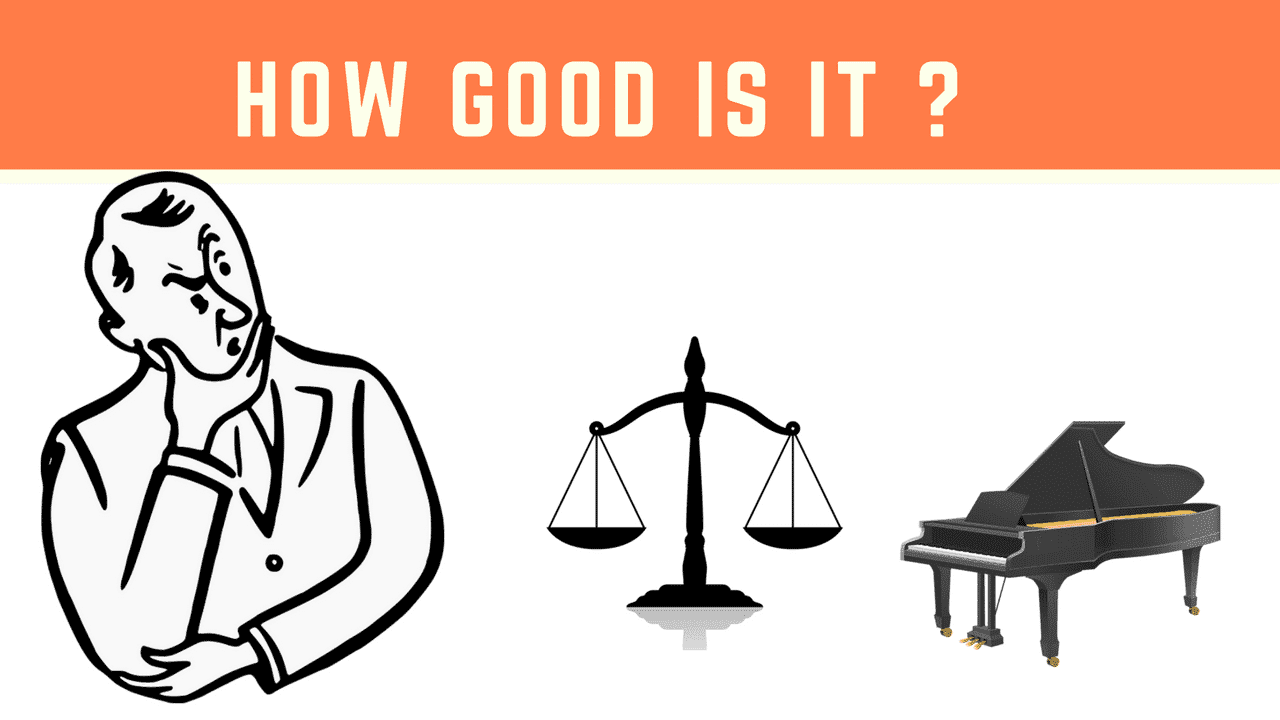 The core difference here is that the keys on the P255 are heavier, quieter and more stable, the GHS, on the other hand, feels much looser and lighter.
---
The Yamaha p255 also boost of synthetic ivory keys, a nice and smooth material that captures the essence of a real piano in further depth.The P115 keys are made of plastic, this not an ideal solution for professional players as it causes issues when playing certain passages.
Once again the P255 dominates by doubling the amount of polyphony to a total of 256. I personally believe that the 192 polyphony ratio offered by the Yamaha p115 is terrific, such an amount is enough to engage intermediates, beginners, and even professional players.
More on polyphony notes here:  What is polyphony and why is it important?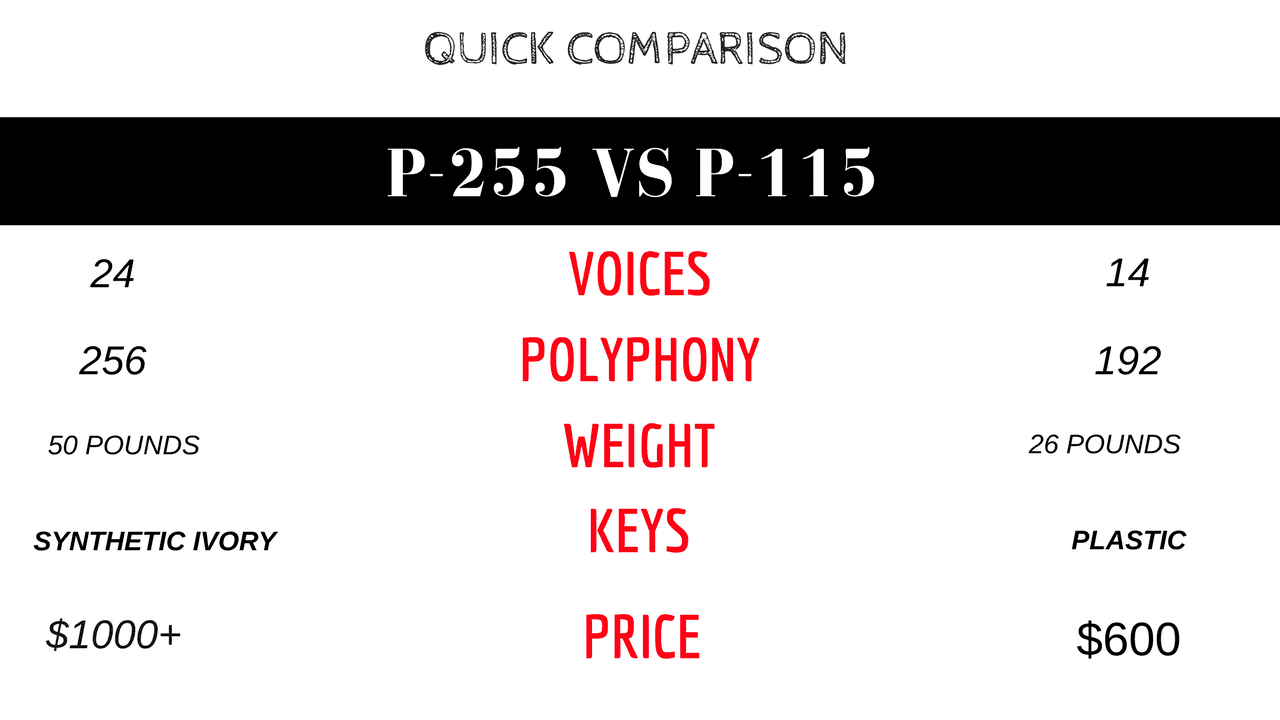 Voices….. definitely not the strong point of either of them, do be specific Yamaha portable pianos present little to no voices, this is for sure a big con when considering their price.
Yamaha P255 offers 24 voices
here are the categories:
---
Grand Piano: 4
Piano: 4
Organ: 4
CLV/VIB:4
Others: 8 
---
Yamaha P115 14voices
here are the categories:
---
Pianos :3
E.Piano :3
Organ : 3
Brass :3
Vib. : 2
---
Yamaha P255Speciation table
| | |
| --- | --- |
| Keys | 88 |
| App integration | ✓ |
| Colour | Black  White |
| USB | ✓ |
| LCD | ✓ |
| Transpose | ✓ |
| Metronome | ✓ |
| Split Mode  | ✓ |
| Dual Voicing  | ✓ |
Yamaha P115 Speciation table
| | |
| --- | --- |
| Keys | 88 |
| App integration | ✓ |
| Colour | Black  White |
| USB | ✓ |
| LCD | X |
| Transpose | ✓ |
| Metronome | ✓ |
| Split Mode  | ✓ |
| Dual Voicing  | ✓ |
Yamaha P115 vs P255: Price
Ok if you made it through the comparison probs to you, is very important to conduct in-depth research when it comes to expensive instruments, now is the time to unveil the final question mark, how much do they cost and is it worth the money?
---
The Yamaha P255 currently cost $1,299.99.
Yes, I am not kidding, that is why it seemed to destroy his rival in every single way possible.
---
The Yamaha  P115 is available at $600
Thank God….. this is a far cheaper weighted keyboard to the P255, something most of us can afford to be honest.
---
So should you go spend the $1,299.99  that Yamaha is asking on the P255?? well depends, if you are a professional and are looking for the best possible experience out of a portable digital piano then no doubt this is the solution for you.
What about beginners and intermediates? I can confidently tell you that the P115 is the way to go, especially if you are on a tight budget.
Both Pianos are great, believe me, Yamaha has done a great job by putting this musical instrument together for their consumers, nothing is perfect as we have seen but these digitals definitely do hold their ground.